What is Merchant Cash Advance (MCA Loan)?
MCA Loans (Merchant cash advance) is not technically a loan. You will receive upfront funds in exchange for a slice of your future revenue. In the past, most merchant cash advance been for businesses whose revenue comes primarily from credit and debit card sales. Nowadays, merchant cash advances are available to other companies that don't depend on credit card or debit card sales.
How much you'll pay in fees is determined by your ability to repay the merchant cash advance based on your revenue at the time of applying. 
How to qualify for a business line of credit?
Frequently asked questions
Your payment will be charged by a fixed daily, weekly or by-weekly charges directly from your business bank account, known as ACH ( Automated Clearing House) withdrawals.
Yes. We have different programs that are available to be used along other funding programs. The approval process will take in account the existing debt and will offer you one out of two options:
Loan Consolidation: We are able to pay your existing debt and provide you with additional funds
Stacking: If the finances allow it, we are able to provide you access to funds alongside other funding options. 
Yes. All our programs contain a refinance / renewal option after 35%-50% of the program is completed. I most events if the business maintained a good track of payments the renewal offer will be at a lower rate and better terms then the intial program.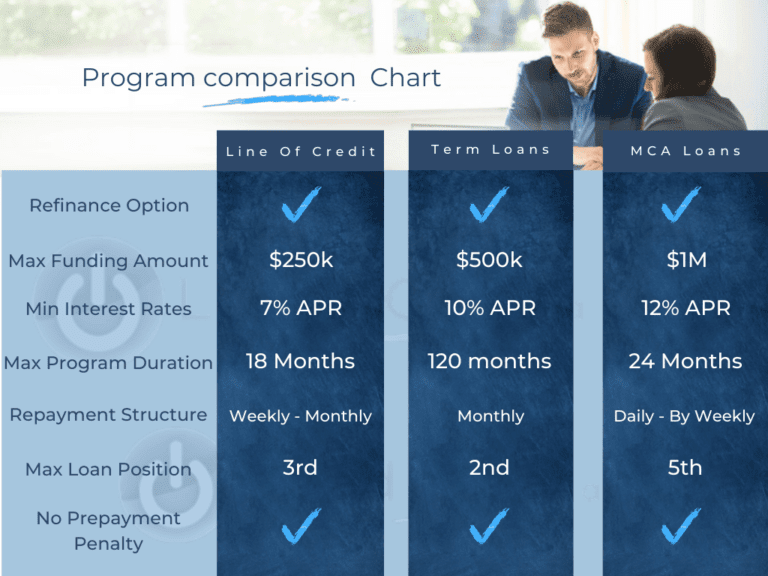 Check Out Our Other Business Loan Options